Let's start with a quick introduction to this post:
I won't be the first to say it, but sometimes a book finds you at the right place and time. For me, this serendipity happened last week when Doug Fisher, Nancy Frey, and John Hattie's new book came onto my radar. For anyone who is thinking about how to build a successful school year, you've got to get this book in your hands. When I bought my copy, I purchased the digital, Kindle version and saved myself at least $15.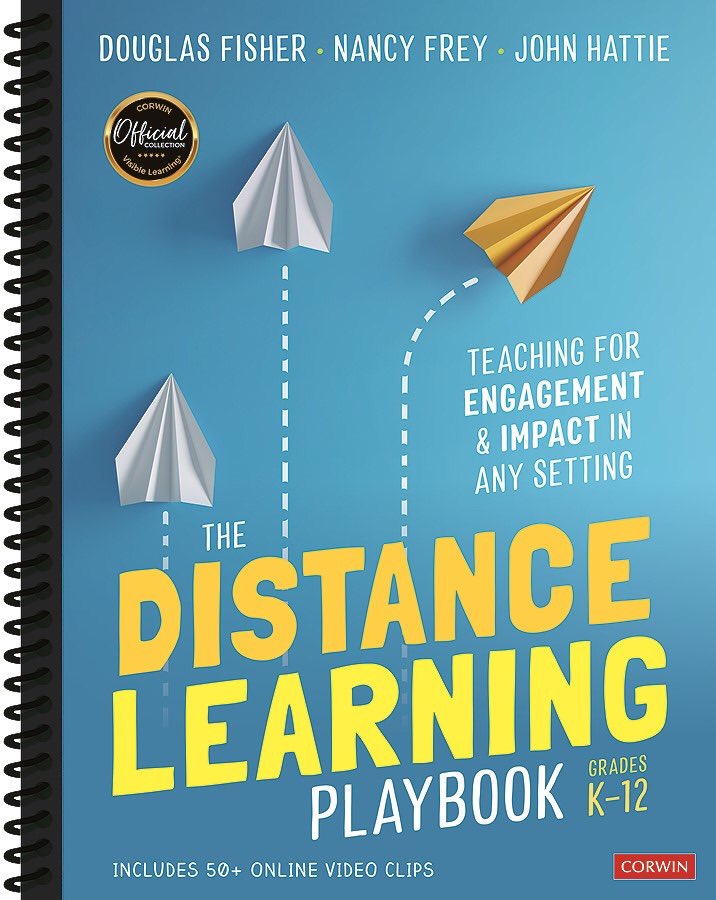 Why the right book at the right time? Well, they captured my feelings about the first several weeks of school and what I've got to ready myself for in September. My previous post starts to reflect on the important moves that I'll need to make in September, but I appreciated the way that Fisher, Frey and Hattie capture this in the success criteria in "Module 2: The First Days of School." I've listed them below and the language in the parenthesis is mine:
I can establish norms for students.
I can develop class agreements.
I can identify (a)synchronous distance learning classroom expectations.
I can teach organizational and procedural routines (and tech tools).
I know my students' names and interests.
What follows is how I'll try to accomplish these items.
What do I want to accomplish in the first day?
In the past, when I thought about the first day, I wanted to do three things. First, let students get to know me a little. Second, let students get to know each other. Third, introduce a procedure that we would be using almost everyday in class.
Here's what I do. The activity is called "Frayer a Friend." The idea comes from the great tech blogger, Matt Miller. The idea is simple. Students find a partner, conduct a short interview of each other, and then after a designated amount of time, introduce their partner to the class using the information gained in the interview. I actually model the activity by sharing a frayer that I completed with information about me. At the end of the activity, I've accomplished all the goals I listed above.
By sharing the model, I've introduced myself and shown a bit of my personality. Because of the nature of the interview process, students have a low risk way of sharing something about themselves, and because their partners introduce them, they don't have to talk about themselves.
Using our LMS, Schoology, I put the assignment, linked above as a Google Drawing, in as a Schoology Google Drive assignment. Once students go into the assignment, they see how I will give them materials in Schoology, how to open them, and then when we are done, they also know how to submit. Routine 1: Accessing and Submitting Assignments…check!
However, I get a bonus here, because using a Frayer as a concept attainment strategy is something I use throughout the year. When I get into my first set of vocabulary, we use the Frayer as a way of learning terms and sharing them. Kids already know the template!
Now, doing this in a face-to-face class is probably pretty straight forward. Doing this in a synchronous session in a virtual meeting is also easy, if you have the ability to do a breakout session. Asynchronously, it gets a little more tricky, and honestly, if I had to do asynchronous, I would choose a different activity.
A note on routines and procedures
What are the routines and procedures that are essential for your instruction and that you train students on in the first weeks of school? While everyone has individualized procedures matching personality, content, and grade level, there are some core items that everyone does:
What do you do when you come into the classroom?
Where do you put your stuff?
What should be the items on your desk at the start of class?
How does the teacher give signals about when to focus?
How do you access materials?
How do you turn them in?
What do you do when you need help?
How do you move about the room?
How do you work in groups?
When is it okay to talk to a peer?
When can I pack my stuff up and leave?
There are probably a lot of others that you'll have. Please leave them in the comments. Some may be asking, but what if I'm teaching remotely? Think about the list above rewritten for virtual classrooms and meetings:
What should you do when you get into a Zoom meeting?
What should be in the camera view when in a Zoom meeting?
Before the Zoom meeting, what should you do to be ready?
During a Zoom meeting, how do you let the teacher know you have a question or want to participate?
How is the course organized in our LMS or website?
How do you get into and out of breakout rooms?
How do you get help outside of Zoom? When is it okay to talk to peers about work?
When is it okay to leave the Zoom meeting?
The moves are the same. I'm also asking these as questions because everyone's answer is going to be a little different. When I'm in a physical classroom presenting material to students, sometimes I want questions from students as I go, and sometimes I want them to hold them until the end of the instruction. In a Zoom, sometimes, I want them to use the chat, and sometimes, I disable it. Context is everything, right?
However, looking at the above list of questions, one thing that I know I need to do is to generate a document that has my Zoom meeting expectations, and I need to develop either an activity to practice this, and I might also need to build in a conversation about Zoom meetings as part of our class agreements. Developing class agreements is a post for another day.
Also, looking at the list above, I need to develop an FAQ page for students and parents. I'm not quite ready to do that yet. Currently, my district plan is a hybrid model where students come on different days of the week, so I still don't have a concrete picture of how the schedule will look, developing an FAQ that listed how I will give help outside of class isn't clear. However, according to Fisher, Frey and Hattie, good FAQ documents for the coming year will respond to the following:
Where can I find weekly and monthly schedules?

Where do I find assignments and materials?

How do I submit work?

How do I find graded work and comments?

When can I get help?

How do I get technical help?
This is a helpful list, and one that combined with the procedures, would give us even more to think about in terms of our training of students.
More on connecting to students and learning their interests
An activity such as the Frayer interview I describe above is an easy way to start to get to know kids. They've submitted their interviews, so later I can pull them up and use them to guide my work. However, I want to start to get to know them and their interests more deeply.
Interest surveys abound and are a good way to continuing the process. However, I want to dig in a little more deeply.
Two things I'm considering are below. These activities move beyond that first day of class, first encounter with students.
Five-things listicle blog: In it's simplest form, students write a "blog" post on their five favorite songs and explain about why that song is so important to them. It's easy to give choice here, too, and allow them to write about any form of media. I use the term blog loosely, because not everyone is going to have a blog. Instead, I'm suggesting that given the technology available, students can embed links to YouTube videos to create a multimodal composition.
Using Robin Bowman's It's Complicated, students continue with their interviewing, and create something more long form and personal. Thanks for the idea from Marchetti and O'Dell in their excellent book Beyond Literary Analysis.
Some final thoughts